Let Go: An Introduction to Meditation
This class is taught by: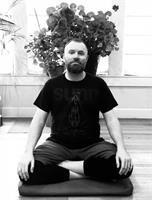 Daniel Chamberlin is an artist, writer, and the resident Yin yoga teacher at the Indianapolis Zen Center. Daniel has been practicing various forms of meditation since the early '00s. He first started sitting with Kusala Bhiksu, an American-born monk ordained in the Zen tradition of Vietnam, at the International Buddhist Meditation Center in Los Angeles, California. While living in the desert of Far West Texas, he was part of a sangha organized by Nick Terry, a student of Charlotte Joko Beck. Daniel lives part-time at the Indianapolis Zen Center where he is a student of Lincoln Rhodes, a founding member of the Kwan Um School of Zen. Find more at danielchamberlin.com.
Saturday, November 10, 2018
1-3pm
Guest Instructor, Daniel Chamberlin
Investment: $25, Preregistration required.
The benefits of a mindfulness practice have been well-known to humans for thousands of years, yet it can still be difficult to find our way into a regular meditation schedule. How long should we sit? Should we sit in silence, or with a soothing voice to guide our minds? Where should we put our hands? How do we know if we're getting it right?
This Introduction to Meditation workshop will address some of those questions, and give curious students the opportunity to explore several forms of meditation. This workshop is modeled after traditional Zen meditation retreats: We'll start off with a casual discussion of form and a 20-minute guided meditation. This sitting meditation will lead to a short walking meditation period and a 45-minute Yin yoga practice. We'll close the workshop with a 20-minute silent meditation and conversation.
This workshop is open to all students, regardless of experience level. Comfortable, loose-fitting clothing is recommended.
Because space is limited for special events, cancellations must be made 48 hours before the event in order to be eligible for a refund.